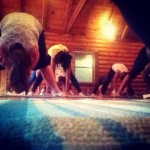 Workshops and Events
Transformation Yoga takes pride in producing and delivering excellent workshops, playshops and events. Inspired, educated,
Programs
Targeted, specific education and training related to hot topics- including Grief Management, Body/Injury Rehabilitation, Women's Health and more.

Private Lessons
Available In-Home or at a local yoga studio, private lessons afford you the opportunity to explore and refine your practice. We offer customized sessions that draw on a variety of modalities, depending on your current physical and energetic needs.

Energy Consultations
Available In-Person, Phone or Internet, Energy work is a
Group Lessons w Michele Smith, E-RYT
Michele teaches three open-to-the-public group classes every week.  Classes are open to all levels and are typically a healthy mix of asana (yoga poses), pranayama (yogic breath-work) and meditation. You get to meet and practice with like-minded people and still get the benefits of a stellar yoga practice.
Products
Transformation Yoga offers several products, literature, e-books,
Sacred Tours & Retreats
We team up with the best local area guides to provide comfortable (and sometimes luxurious) sacred retreats & tours. These experiences are a great opportunity to grow spiritually and to rejuvenate the spirit.
________________________________________
Our educational offerings occur all over the Tampa Bay area, nationally and internationally. Please visit our calendar of events. If you have any questions call
(813) 401-6534
Email– Michele [at] Transformation-Yoga.com