In-Person Continuing Education for Yoga Teachers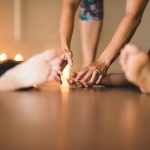 Energy Management for Yoga Teachers:
Would you like to increase your knowledge about the Subtle Body, Prana, Energy?
Do you sometimes feel drained after a private lesson or class, even if initially you feel "yoga-stoned"? Would you like to be more comfortable offering yoga assists and adjustments?
Have you been feeling the need to shore up your intuitive skills?
Curious what Reiki is all about? This course is for Yoga Teachers desiring to protect and up-level their energy and strengthen intuition.
Lead Educator: Michele Smith, E-RYT 500